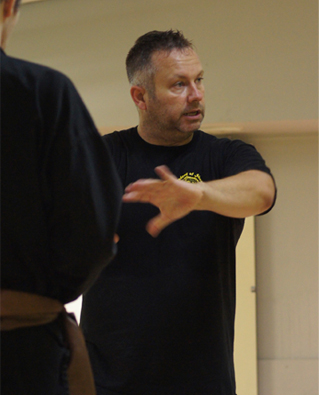 Sifu Steve Beynon (Chief Instructor)
A veteran of combined Southern/Northern (Hard/Soft) style Shaolin Kung Fu. Steve's ultimate goal is to promote this Chinese Martial Arts for fitness and self-defence system.
Steve is an empty hand self-defence and unarmed combat expert who specialises in the striking methods of the five animals and family styles.  A dedicated practitioner holding a Senior Master Grade, Steve has been an AMA instructor and assessor for over twenty years.  Previously holding seminars and open workshops for Instructors, multi style practitioners and ladies self defence classes.
His portfolio includes military unarmed/armed combat & fitness training with HMRM, Judo, Lau Gar Kung Fu and Kickboxing, Tang Shou, Tiger Crane, Five Animals Shaolin, Jun Fan (Dan Inosanto Jeet Kune Do) and Shaolin Society collaboration with Lao Shi Mateus Owens.
Lao Shi Paul Hilton (Senior Instructor)
Paul has trained for almost two decades within multiple Chinese Martial arts disciplines.  He is graded as a Senior Master Grade and is an AMA recognised Instructor. Paul is dedicated to the personal training requirements of participants.
Paul's determination and focus as an instructor has given him respect within the Chinese Martial arts Arena. Paul Is a Senior University lecturer with a vast teaching experience.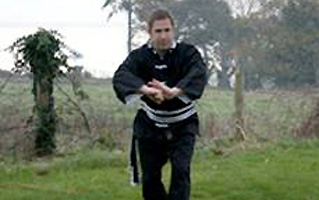 Lao Shi Tim Davies (Senior Instructor)
Tim has dedicated over a decade of his life to Chinese martial arts and is a recognised AMA instructor and Master Grade. His consistent training efforts within the Chinese Mixed Martial Arts have not only given him excellent teaching capabilities but also helped his career path as a film stuntman for fight scenes along with other skills.
Training Times
Tuesday 7.00pm – 8.00pm Kung Fu (Beginners)
Tuesday 8.00pm – 9.00pm Kung Fu (Intermediate)
Wednesday 8.00pm – 9.00pm Chinese Kickboxing
Website designed and developed by Jamie Homer
The Academy of Shaolin Kung Fu
Everyone Active, Ashdown Leisure Centre,
Adastral Road, Poole, Dorset BH17 8RE
Email us on info@academy-shaolin.co.uk