The Academy
The Academy of Shaolin Kung Fu is based in Bournemouth and Poole, Dorset, England and provides syllabus based weekly training sessions.
This organisation is registered and licensed by the amateur martial association, our instructors are recognised at National Coach standard.
Our non-competition style caters for both male and female from beginners standard and upwards. We do have a minimum age of ten years. This restriction is in position because some techniques and subjects are unsuitable for young children.
After your first lesson you will be invited back to take a second free, why not call for a free consultation (01202 640 333) and book an appointment for training and feel for yourself the benefits of learning this philosophical and spiritual ancient Chinese martial art.
Click here for our current training programme
Students will learn at their own pace and in a progressive manner (as there is no pressure to compete) under guidance from our instructors who have many years experience within this field. A student will have the chance to learn a massive system of Shaolin martial arts if he or she so wishes.
New students will over the course of time attain a very high standard of martial ability. Some characteristics of this will be felt as the student becomes fitter, more flexible, better co-ordinated, sharper mentally, improves balance, gains strength, faster, more accurate, more confident, disciplined, focused and a better fighter. Obviously good martial arts skills take time and commitment to achieve.
Regular gradings are held internally to assess all our students and certificates achieved at each appropriate level.
What to expect?
Open sessions, workshops and seminars
Both external and internal, hard and soft styles
Mixed Northern and Southern Shaolin styles from the five family systems
The five animal styles of Shaolin
The extensive system of Shaolin Chin-Na
Shaolin free-fighting
Fundamental evasion, control and seizure of knives, blunt weapons and hand guns
Self-defence psychology
Fitness, co-ordination and balance training
Character and confidence building
Shaolin weaponry (seniors)
Shaolin Chi-Kung for health (breathing and movement exercises)
Yoga Taoist (flexibility training)
Regular gradings
Amateur Martial Arts Association affiliation
Shaolin
Kung Fu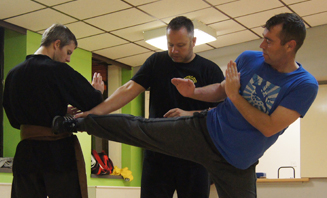 Traditionally taught classes that offer a baseline of fitness and conditioning for Martial Arts. Kung Fu really is the original mixed style Chinese martial art, specific attention is paid to stances, balance, flexibility, spirit, position and posture.
As the system unfolds the true nature of the Martial art become apparent as the basis of Blocking, Striking and Grappling practices are studied. We use scenario training principals to move the discipline toward practical and real self-defence situations.
Chinese
Kickboxing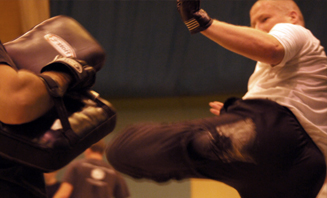 More of a cut down version of Kung Fu which predominantly focuses on fighting fitness in the context of get out of trouble fast solutions. It's a partnered training session with MMA gloves and Thai pads. Within the sessions you will learn to strike effectively using the hands, elbows, feet and knees and focus your energy and power in to a target. The basics of stance, centre line, guarding and focus are key elements.
Dedicated Free Fighting sessions are offered to those who wish to participate.
Personal
Training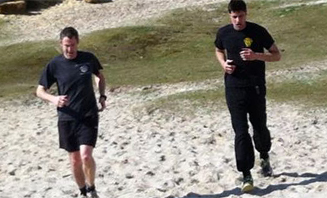 One to One and Small Group Training sessions are available to increase the learning curve. Tailored programmes are structured to take your training forward at a faster pace and focus on individual personal development.
Popular for those who are training towards a higher grade or are interested in becoming an instructor.
Training Times
Tuesday 7.00pm – 8.00pm Kung Fu (Beginners)
Tuesday 8.00pm – 9.00pm Kung Fu (Intermediate)
Wednesday 8.00pm – 9.00pm Chinese Kickboxing
Website designed and developed by Jamie Homer
The Academy of Shaolin Kung Fu
Everyone Active, Ashdown Leisure Centre,
Adastral Road, Poole, Dorset BH17 8RE
Email us on info@academy-shaolin.co.uk